data-related headaches
Does your organization's ever-growing data give you a headache? Netwrix Data Classification solves your data-related challenges, such as mitigating the risk of data breaches, realizing the full value of your content, increasing employee productivity and passing compliance audits with less effort.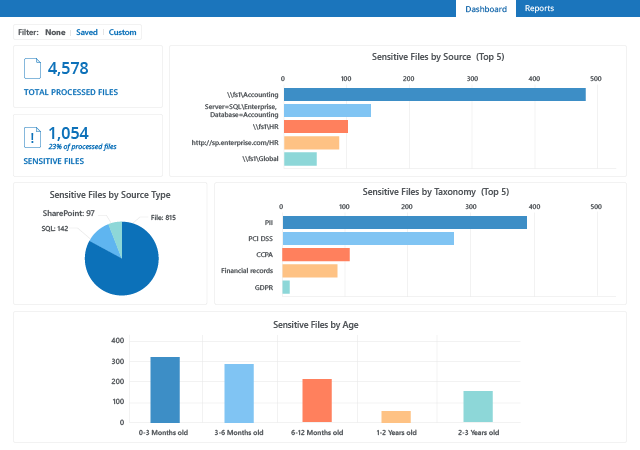 Understand your data across your entire environment
Want to gain complete visibility into what content you have, whether it's structured or unstructured data, on premises or in the cloud? We've got your back.
Classify data accurately and automate your workflows

Get accurate data classification results
Gain a better understanding of data patterns specific to your organization. With compound term processing and statistical analysis, you'll get more relevant results than by relying on keywords and semantic analysis.

Categorize data in a few clicks

Kick off your discovery in minutes with out-of-the-box rules that identify data protected by GDPR, PCI DSS, HIPAA and other regulations. Create custom rules to find other data that matters to your organization.

Streamline taxonomy management

Create and modify taxonomies in a user-friendly interface. Eliminate the need to purchase professional

services

whenever you need to develop and maintain taxonomies.

Discover specific pieces of content

Find specific data as part of litigation process and locate all personal data related to an individual to comply with data subject access requests without downtime or having to create new rules.

Automate data-related routines

Embed classification information right into the files to improve the accuracy of your DLP or IRM products and streamline data management tasks, such as retaining, archiving or migrating only specific types of data.

Automatically reduce exposure

Protect sensitive files by automatically moving them to a safe area, removing permissions from global access groups and redacting confidential content from documents.
Learn more about how small businesses and enterprises alike can solve their data-related challenges with Netwrix

Data Classification

.

Netwrix ROI Calculator

Measure the expected return of your data security investment and prove the value of Netwrix

solutions

to your leadership team with hard data.
Data Access Governance
Software to Lean On
All too often, organizations get serious about controlling access to their data only after they experience a data breach. But there's no reason to wait. Netwrix helps enable strong data access governance (DAG) across your file servers, as well as collaboration systems like SharePoint and SharePoint Online, by giving you deep insight into your unstructured data, including information about possible security gaps, effective permissions and data access patterns. With Netwrix, you can ensure that you have all the proper access security controls in place to prevent breaches.
Jump-start your DAG program by mitigating major
IT risks that endanger your sensitive data
Remediating gaps in your data security is critical to data breach prevention. Start broad and see if there is data on your file servers that has access rights assigned in violation of access management best practices. Then get tactical and focus on identifying and classifying your sensitive data. With Netwrix, you can proactively harden your security controls and ensure the effectiveness of your other DAG practices, including assigning access rights in accordance with the least-privilege principle and maintaining strict control over data access.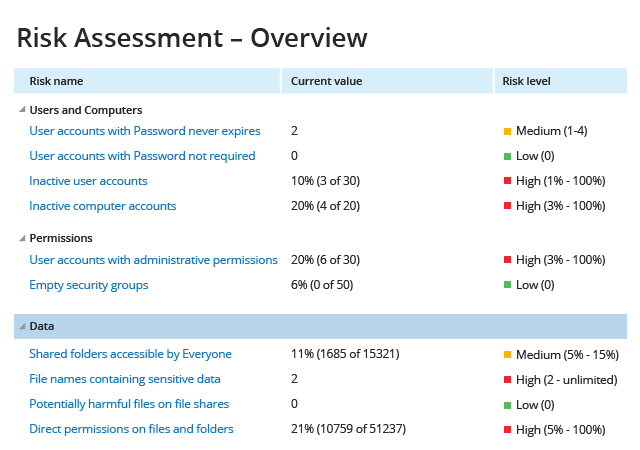 Continuously review permissions to sensitive data
to ensure effective access governance
Ensure that only eligible users have access to sensitive data across your file servers and SharePoint by regularly reviewing effective permissions and involving data owners to verify that those permissions are appropriate.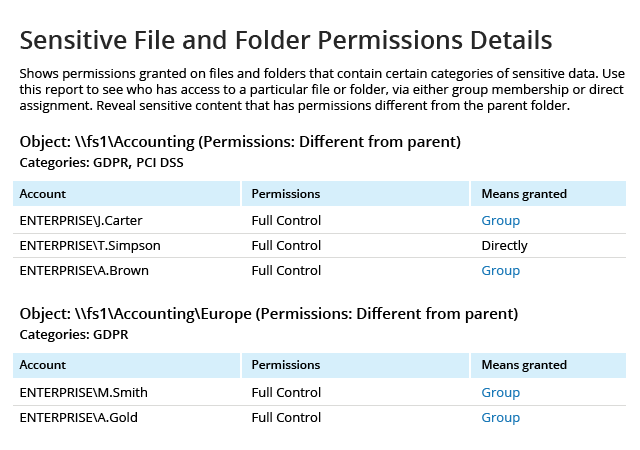 Detect privilege escalation attempts across
your hybrid IT environment
Monitor changes to access rights on file servers and SharePoint sites, as well as changes to sharing and security in SharePoint Online, to ensure that each change is authorized and won't jeopardize your data security efforts.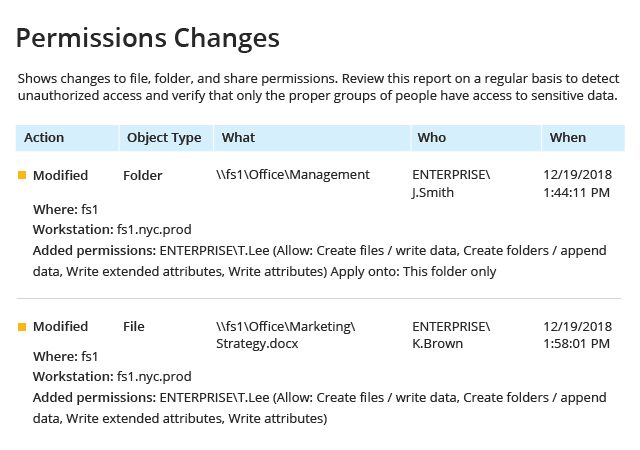 Ensure your data access governance policies are followed by keeping data access events under control
Having access management processes written on paper is different from exercising access control across
your network. Get the power to promptly detect and investigate attempts to access your unstructured data
on file servers, SharePoint, SharePoint Online and OneDrive for Business that fall out of compliance with
your access management policies.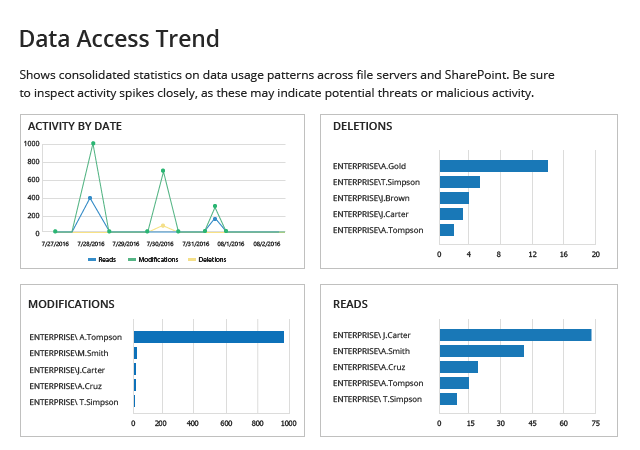 Want to learn more about how to enhance data security and strengthen data management practices?
Find out how to identify both data owners and the primary users of data, and control the growth of unstructured data. And explore how you can use Netwrix to improve data access governance, secure sensitive data and prove compliance.
Improve Your IT Security Posture by Reducing Your 
IT Risks
Netwrix Auditor's IT Risk Assessment reports help you identify weaknesses in your IT security policy settings and practices so you can continually improve your security posture. Quickly spot the risks that require your immediate attention and drill down to actionable details that enable 
prompt mitigation.
No need to deploy the product
See Risk Assessment in Action
Identify and Close Security Gaps with Continuous 
Risk Assessment
IT risk assessment helps you identify vulnerabilities that put your information assets and business continuity at risk. Netwrix Auditor makes it easy to understand your current risk profile, prioritize your response, know what steps to take to remediate each issue, fine-tune risk levels to your particular environment and then review the new risk profile to assess the success of your efforts. By repeating this process, you can continuously improve your security posture, as well as provide proof to management or auditors of your compliance with internal policies or external regulations.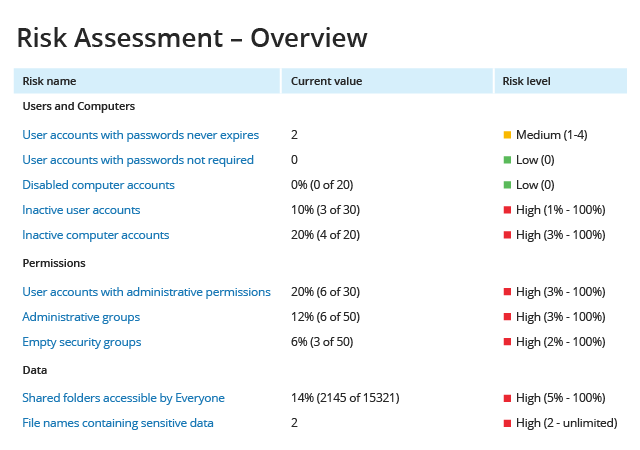 Get actionable data about how to reduce the 
identified risks
Drill down into detailed reports to determine which policy settings, configurations, permissions or security practices you need to adjust to reduce each risk to an acceptable level. For example, the reports will identify which shared folders are accessible by "Everyone", which user accounts are inactive but not disabled, which files contain sensitive data in their names or which accounts can access your network without authentication.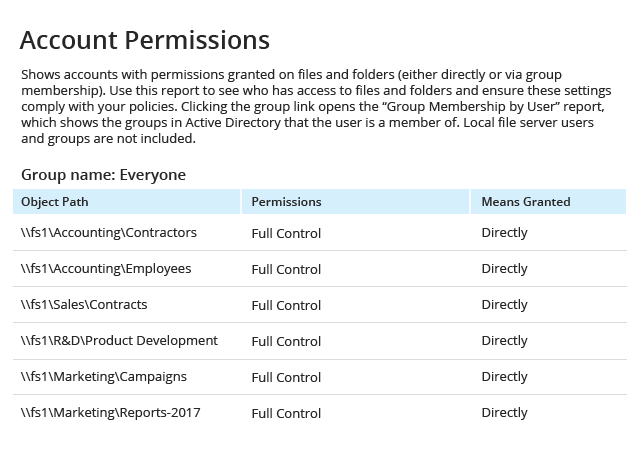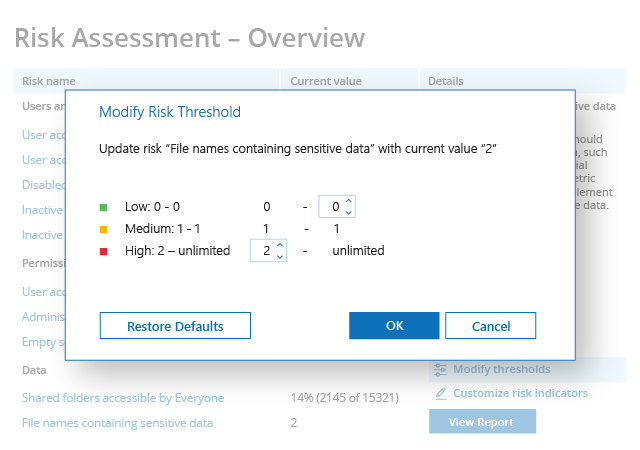 Continuously evaluate
your 
security posture
After you have remediated your top risk factors for data, permissions, and user and computer accounts, evaluate whether your security posture has improved, and repeat the risk assessment and mitigation process continuously. Present the IT Risk Assessment report to your management and auditors to prove that you have an effective risk mitigation 
program in place.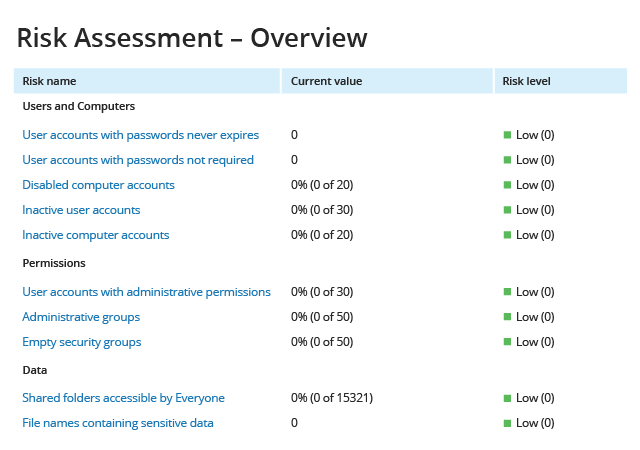 Satisfy Data Subject Access Requests Faster and More Efficiently with DSAR Software
Data subject access requests (DSAR) put more and more pressure on organizations around the world, given recent privacy regulations, such as GDPR and CCPA, with additional regulations on the way. Besides, as more individuals become aware of their rights, it's not a question of "if", but "when", the flow of DSARs will grow dramatically. If you are not ready to respond, be prepared for more work, increased costs, significant penalties, and the loss of your customers' trust. But there is a way to ease the burden – arm your organization with DSAR solution from Netwrix and handle requests more easily and with less expense.
For privacy and compliance executives
Orchestrate fast fulfillment of data subject requests to save time and budget and build trust in your business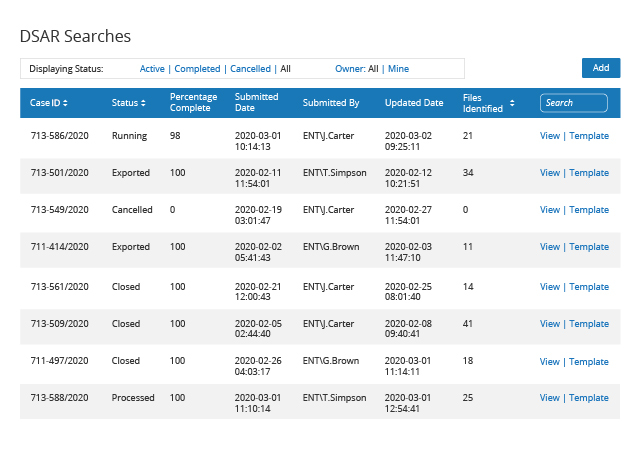 For privacy and compliance teams
Find and export personal information in a few clicks
Deal with more requests in less time
Manually crawling through your various repositories to find all the personal information you store about an individual is not a scalable way to satisfy DSARs; it's a guaranteed recipe for lots of stress and late nights at work. Since privacy regulations impose strict deadlines, you need a way to handle requests efficiently. Quickly discover and collect personal information across your various data stores, even as the trickle of DSARs turns into a flood.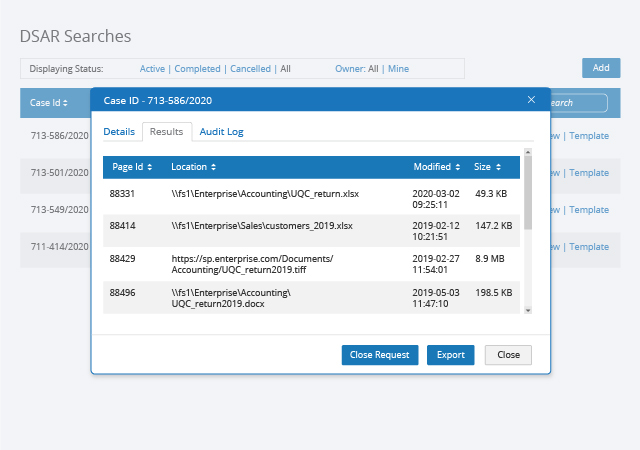 Empower non-IT teams to handle DSARs themselves so you can stay focused on your primary tasks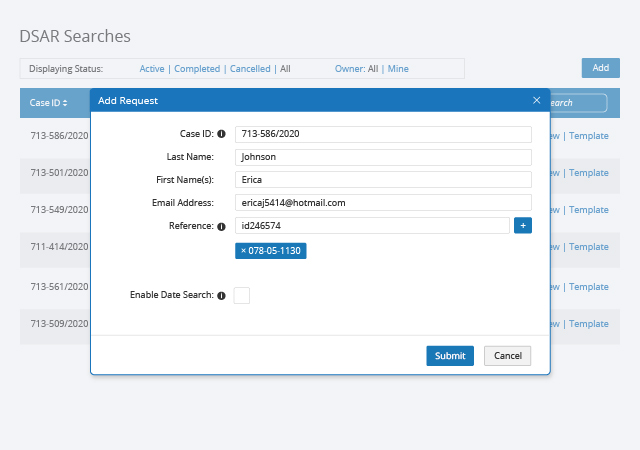 See how Netwrix helps organizations ensure data privacy and achieve compliance