Cybereason is the leader in endpoint protection, offering endpoint detection and response, next-generation antivirus, managed monitoring and IR services. Founded by elite intelligence professionals born and bred in offense-first hunting, Cybereason gives enterprises the upper hand over cyber adversaries. The Cybereason platform is powered by a custom-built in-memory graph, the only truly automated hunting engine anywhere. It detects behavioral patterns across every endpoint and surfaces malicious operations in an exceptionally user-friendly interface.
We are rewriting the rules on how organizations protect themselves against rapidly evolving adversaries. Today's threat environment requires understanding the adversary and attack landscape. Since our start in 2012, our military-grade technology has stopped the world's most advanced cyber attacks. And we harbor even greater ambitions.
Why We're Here
We are here to protect our customers by exploiting their adversaries' weaknesses.
The layers of protection a company has are irrelevant since adversaries will always find a way to bypass them.
However, after infiltrating an organization, the attackers are vulnerable. Their activity offers an opportunity to discover the attack. So we developed an endpoint detection platform that uses this insight to empower security teams.
What We Do
We instantly tell companies if they are under attack, the attack's impact and how to immediately stop the threat.
Our platform finds a single component of an attack and connects it to other pieces of information to reveal an entire campaign and shut it down. Even the most talented analysts would struggle with detecting a threat and quickly building a complete attack story. We simplify this process.
ENDPOINT DETECTION AND RESPONSE
Be Ready to Act: Automate your threat detection to save analyst time and provide them with high-fidelity alerts that show the full attack story.
Respond Immediately: Use our complete remediation toolbox to quickly respond to any incident, no matter the cause.
Start Hunting Now: Empower analysts of all skill levels to start hunting easily with greater visibility and our query builder.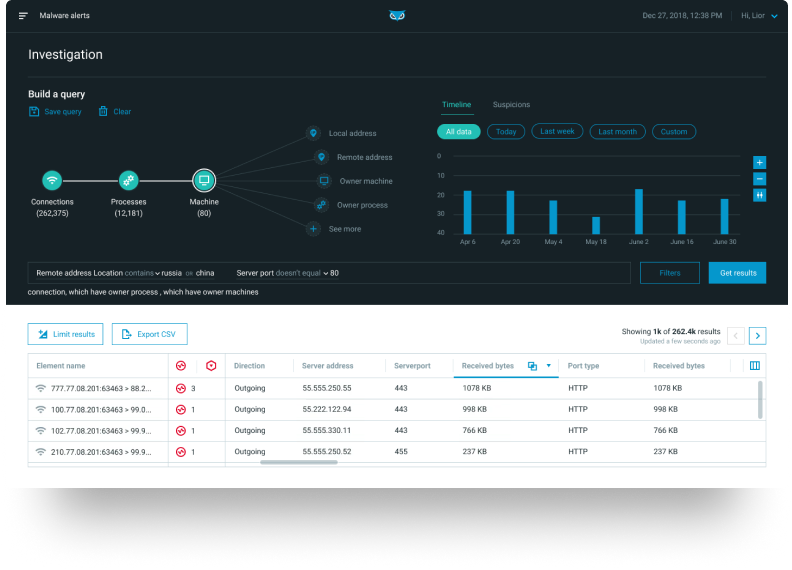 NEXT GENERATION ANTIVIRUS
Prevent Known and Suspicious Behavior: Prevent known and suspicious threats through signatures and machine learning.Fight Ransomware: Stop ransomware immediately with the combination of behavioral analysis and deception techniques.Prevent Fileless Attacks: Thwart fileless attacks instantly and with confidence through our platform, which observes all activities within the PowerShell engine or that use the .NET framework.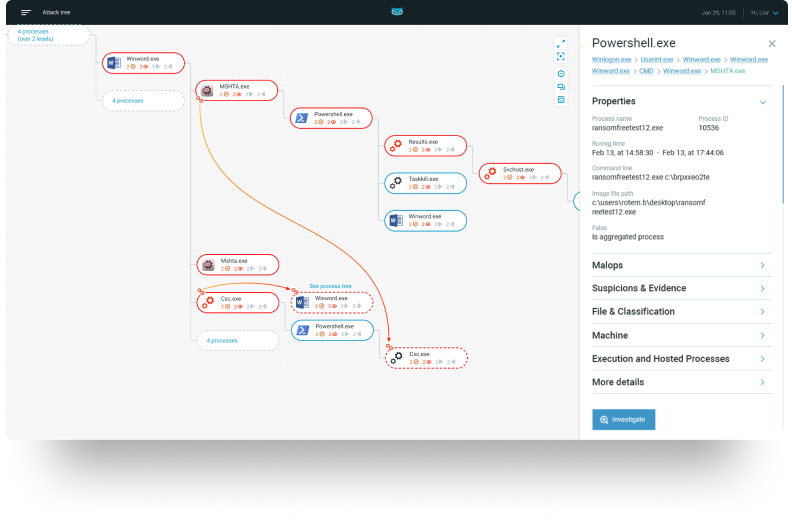 INVESTIGATE WITH EASE
Examine Thoroughly: View the entire process tree, timeline, and all malicious activity across machines for each process, whether it's malicious or not.
Investigate Third-Party Alerts: Match observed behavior and gain additional insight onto activity on endpoints by investigating third-party alerts with the Cybereason EDR, such as from firewall and SIEM tools.
Hunt Proactively: Let every level analyst answer hypotheses and find threats in your environment easily and quickly across operating systems.
TRUST CONTEXTUALIZED ALERTS
View the Full Scope of the Attack: Get a complete story of the attack from start to finish with what we call a malicious operation, the Malop. Within a Malop, you can easily see all related attack elements, including the root cause, all affected machines and users, incoming and outgoing communications, a timeline of the attack, and more in a fully contextualized and correlated manner.
See Attack Details Immediately: Quickly drill into the details of an attack to determine what happened and understand the scope of the attack completely. Pull together the critical elements for any investigation, so your analysts of all levels can act.
Customize for Your Needs: Tailor the platform to your own unique circumstances with custom rules and behavioral whitelisting while maintaining context.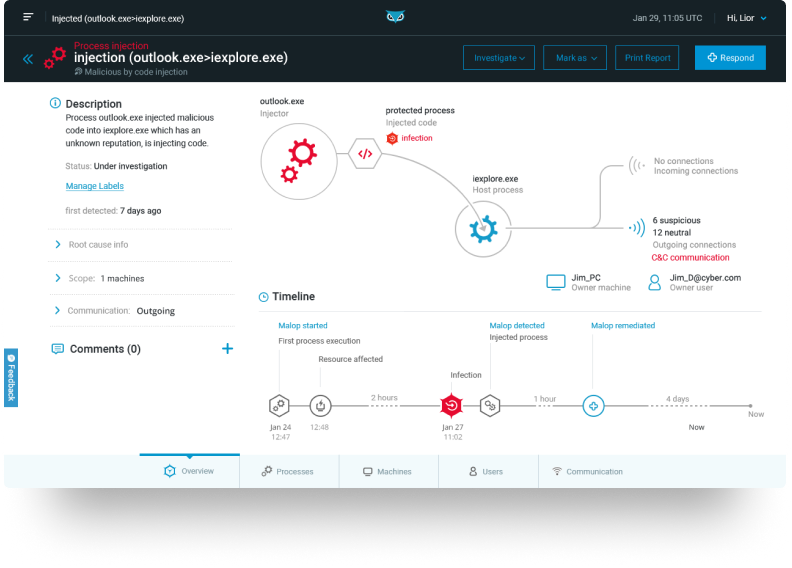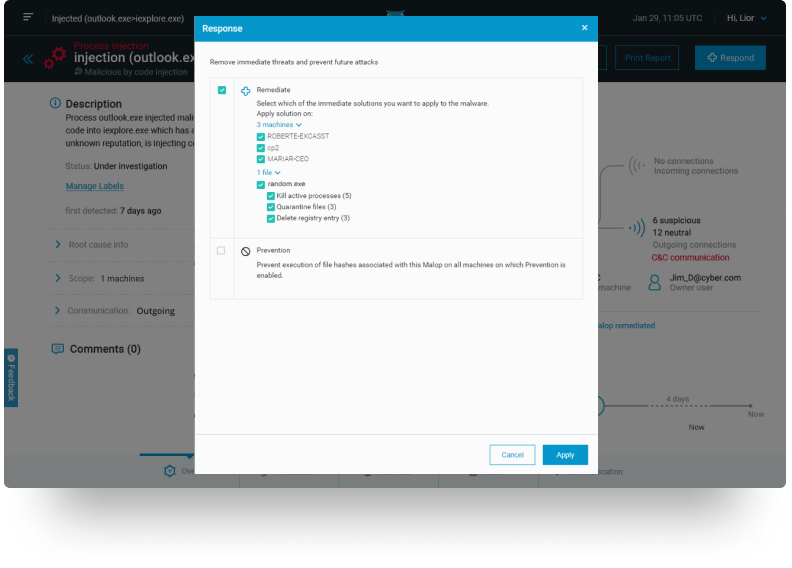 REMEDIATE AUTOMATICALLY
Guided Remediation for Every Attack: Execute a full suite of remediation actions from directly within the console that specifically target the attack at hand.
Execute Remediation Enterprise-wide: Fight modern threats that affect many machines through our remediation toolbox, which can be automatically executed across all affected machines in one action.
Safely Control Remotely: Enable analysts to do more without waiting for IT. Access remote shell directly from the console to contain and remediate threats with our remediation toolbox.
Respond Quickly: When generic tools are not enough, your threat hunters can actively respond in our platform. Apply incident response at scale.
PREVENT MALWARE
Stop Known Malware: Prevent known malicious files from executing with minimal impact on the endpoint.
Stop Suspicious Malware: Stop malware from executing without relying on signatures by leveraging machine learning and behavioral analysis of static binaries. Prevention is not reliant on reputation.
Save Analysts Time: Identify suspicious files with confidence and limit the number of false positives. Leverage the platform's ability to ask hundreds of questions about files to judge malicious activity based on past patterns.
DEFEND AGAINST RANSOMWARE
Automate Ransomware Hunting: Save your analysts time by letting the platform hunt for common ransomware behaviors like rapid file encryption, removal of built-in backups, and suspicious changes to the master boot record.
Prevent Encryption Immediately: Prevent malicious encryption of files automatically, regardless of the cause. Combine behavioral and deception techniques to ensure no files are lost.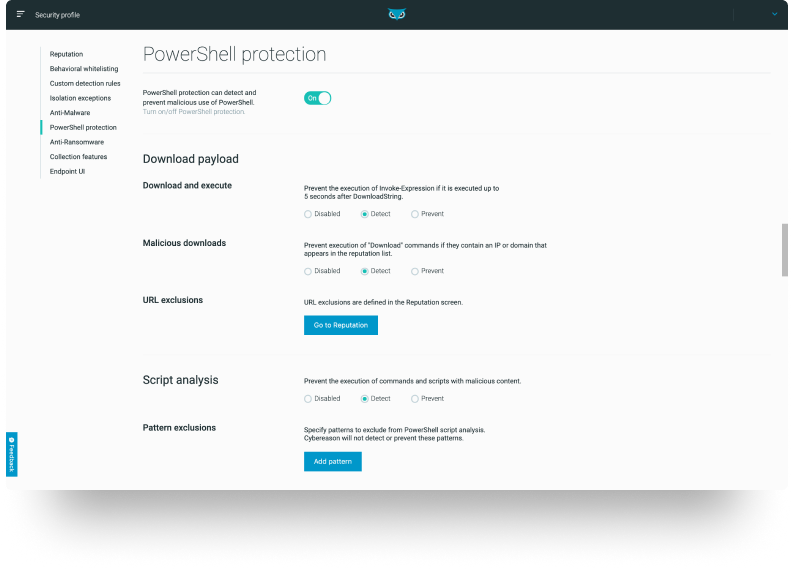 STOP FILELESS ATTACKS
Secure Any Version of PowerShell without Whitelisting: Prevent fileless attacks immediately through our platform. The platform observes all activities within the PowerShell engine and those that use the .NET framework, so you never miss malicious activity.
Neutralize Attacks: Stop fileless attacks even when they are obfuscated or executed without loading PowerShell. Identify and prevent fileless attacks at the code level using behavioral analysis.
Protect Before Damage Hits: More attackers are using LOLbins and other evasive methods. Monitor fileless activity and deliver post-execution, pre-damage protection immediately.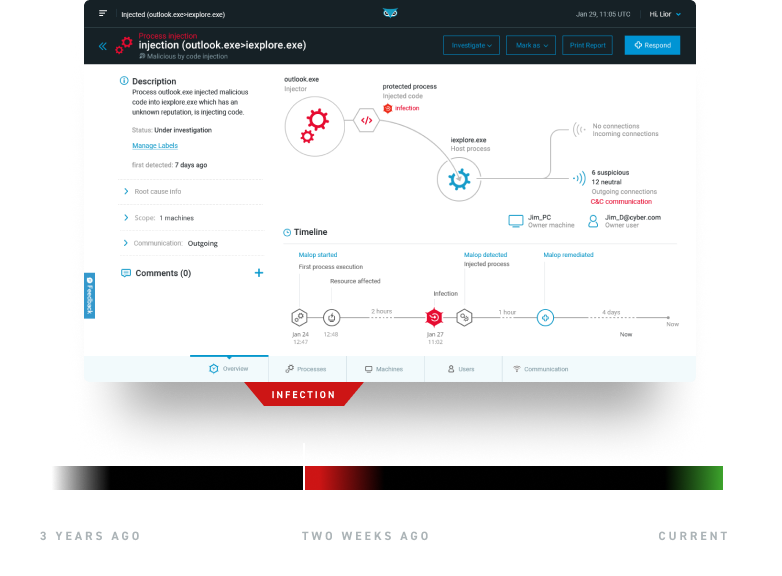 SEE THE ENTIRE ATTACK FROM START TO FINISH
See the Full Scope: Analyze the entire attack from before the attack happened to after.
Replay the Past: Leverage the Cybereason solution and the ability to correlate complex series of events going back months or years in a fully automated way. Scope the attack and replay the past at will.
Analyze the Whole Attack Process: Allow security operations to thoroughly analyze what happened during a breach. See how the system was entered, what was done, and what needs to be done to prevent this in the future.
REDUCE OPERATIONAL COST
Retain What You Want: Determine the retention window that best suits your needs, whether it be one time, monthly, or an annual subscription.
Keep it Cost-effective: Pay only when used. No need to pay upfront for the history or export and store the data in an expensive data lake or SIEM.
Keep Performance High: Investigate historical activity while simultaneously maintaining performance on your endpoints and on the core solution.
Get in Touch