Cyberbit was founded in 2015 to address one of the most acute cybersecurity problems: preparing the human element for attacks. Despite the large investments, even the best security stack will eventually be breached. When this happens, you can only depend on your incident response team's speed and performance. But when security teams experience their first attack on the job, they are far from being ready. Conventional training like tabletop exercises and courses do not prepare your team for the realities of an attack. Cyberbit's founders realized that the only way to effectively prepare cyber defenders is to adopt the same approach used in flight simulation, enabling them to
detect, respond, and remediate a real-world cyberattack BEFORE the attack.
Is Your SOC Team Ready for a Cyberattack?
Eventually, your organization will be attacked.
Unfortunately, this will be the first time your SOC team will experience this attack.
Cyberbit Range prepares your security team for the attack, by providing a hyper-realistic, virtual SOC environment, in which they can train in responding to real-world, simulated cyberattacks, and dramatically improve their performance.

| | |
| --- | --- |
| Enterprise | Prepare your SOC team and red team with a wide range of simulated training scenarios, from entry level individual training to advanced, multi-stage attacks and team training. |
| Service Providers and MSSPs | Expand and differentiate your portfolio and increase revenues, by setting up a cyber security training and simulation center and offering advanced training services. |
| Higher Education | Become the regional cyber hub. Increase student enrollment and retention and prepare your graduates for a career in cybersecurity with hands-on cyber range simulation labs. |
| Public Sector | Solve the cybersecurity skill gap by accelerating the certification of cybersecurity professionals. Train incident response teams in simulated cyber attacks. Test your IT infrastructure and security measures in a safe and controlled environment. |
Train Your Security Team with Cloud-Based Simulation
SOC teams need better quality training, which is accessible from anywhere. This is why Cyberbit's cloud cyber range provides your team with instant access to the market-leading training and simulation environment from your home or your office, at any time, day or night. Blue teams, red teams, and students can log into a cloud-based virtual SOC and experience a wide range of simulated cyberattacks, from basic to advanced team training scenarios, so they are fully prepared and skilled when the time comes to respond.
Train when you like

Start a session anytime, in seconds, at a convenient time, from any location

Train at ease

1. Book a virtual training room
2. Get a log-in link for each trainee
3. Setup your training scenario

Train like a pro

Choose from a rich catalog of scenarios and get detailed trainee debriefs and reports to improve performance
Instantly launch your desired training network. Choose from a variety of comprehensive templates at a single mouse click. Cyberbit Cloud Range offers rich, multi-segment virtual replicas of enterprise IT networks that include application servers, database servers, email servers, switches, routers, as well as a simulated internet segment.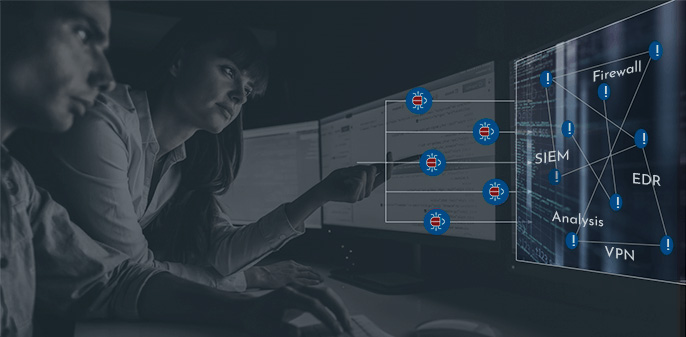 Real Security Products
Train your teams using market-leading security products. Select from a range of commercial SIEMs, firewalls, endpoint security systems and analysis tools, allowing your trainees to practice using the same tools they would use in real-life.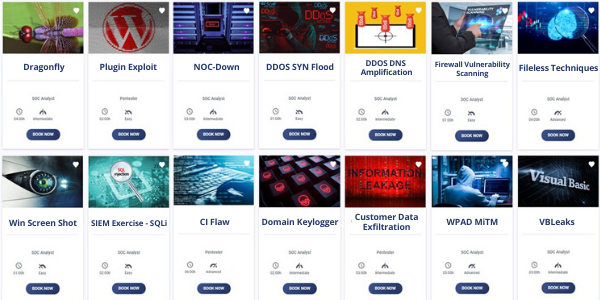 Rich Training Scenarios That Upskill Your Team
Choose from an extensive catalog of simulated training scenarios, from entry level to advanced, multi-stage attacks. Train individuals or teams, from tier-1 analysts to SOC managers and red teams. Cyberbit's training scenarios are designed for multiple roles and aligned with NICE Cybersecurity Framework KSAs.
Evaluate Your Team's Performance
A virtual, automated instructor evaluates trainees' performance according to their designated goals. For advanced training scenarios, any member of your team can oversee and control the training session by using an intuitive Range Control App. The App allows you to guide trainees in real-time, review session recordings and receive detailed performance reports.
Get in Touch