CyberArk is the only security company laser-focused on striking down targeted cyber threats, those that make their way inside to attack the heart of the enterprise. Dedicated to stopping attacks before they stop business, CyberArk is trusted by the world's leading companies — including more than 45% of the Fortune 100 — to protect their highest-value information assets, infrastructure and applications.
For over a decade CyberArk has led the market in securing enterprises against cyber attacks that take cover behind insider privileges and attack critical enterprise assets. Today, only CyberArk is delivering a new category of targeted security solutions that help leaders stop reacting to cyber threats and get ahead of them, preventing attack escalation before irreparable business harm is done.
At a time when auditors and regulators are recognizing that privileged accounts are the fast track for cyber attacks and demanding stronger protection, CyberArk's security solutions master high-stakes compliance and audit requirements while arming businesses to protect what matters most.
PRIVILEGED ACCESS SECURITY SOLUTION
The CyberArk's Privileged Access Security Solution addresses a wide range of use cases to secure privileged credentials and secrets wherever they exist: on-premises, in the cloud, and anywhere in between.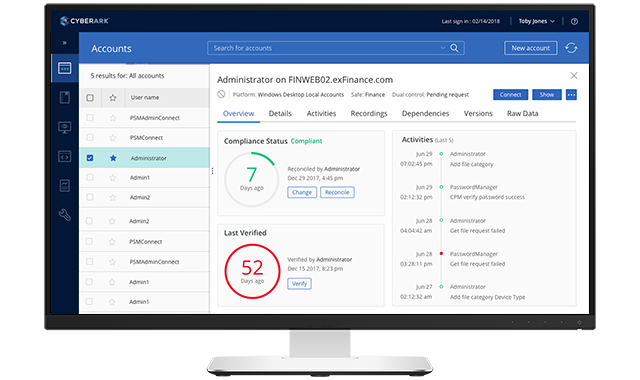 CORE PRIVILEGED ACCESS SECURITY
Continuously discover and manage privileged accounts and credentials, record and monitor privileged sessions and remediate risky activities across on-premises, cloud and hybrid environments. Enable least privilege on both Windows and *NIX servers and detect and mitigate threats on domain controllers. The API-first approach enables full task automation and enhances functionality.
ALERO™
Enable secure remote vendor access to the most sensitive IT assets managed by CyberArk, without the need for VPNs, agents or passwords. Alero combines Zero Trust access, biometric multi-factor authentication, just-in-time provisioning and visibility into one single SaaS solution for providing remote vendors secure access to the CyberArk Core Privilege Access Security Solution.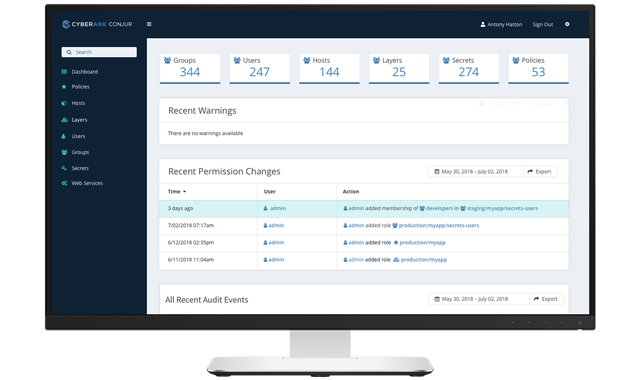 APPLICATION ACCESS MANAGER
Control, manage and audit non-human privileged access for applications, including commercial off-the-shelf, in-house developed applications and applications developed using DevOps tools and methodologies — across on premises, hybrid, cloud and containerized environments.
ENDPOINT PRIVILEGE MANAGER
Enforce least privilege, control applications, and prevent credential theft on Windows and Mac desktops and Windows servers to contain attacks and stop lateral movement.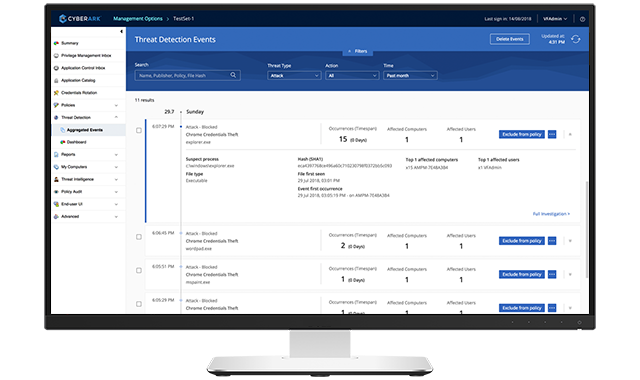 CYBERARK PRIVILEGE CLOUD
Satisfy fundamental privileged access security requirements by utilizing CyberArk's expertise to manage the underlying infrastructure. With CyberArk Privilege Cloud, organizations can empower security and IT operations to focus on high-level tasks critical to the organization's security posture.
Secure the most critical attack vector
Advanced persistent threats are wreaking havoc across global enterprises. Cyber threats are better planned, more sophisticated and directly targeted at an enterprise's most valuable core assets. They often target the credentials of privileged accounts due to the system wide access they grant with little ability for protection once access is granted.
Perimeter security measures are not good enough to protect against advanced persistent threats. CyberArk solutions offer advanced threat protection by focusing on privileged account security.
CyberArk's comprehensive solution for privileged account security is purpose-built to provide complete proactive controls and advanced threat protection on privileged account usage.
Key Benefits:
Privileged account protection and strict access control with security as a forethought
Advanced threat detection based on anomalous privileged user and account behaviors
Isolation and real-time monitoring of privileged session access with policies, workflows and privileged single sign-on
Continuous monitoring and compliance with zero footprint session recording on target machines for forensic insight into malicious, command-level activity
Enablement of security operations and incident response teams to detect and respond quickly and precisely to potential threats and misuse
Secure and isolate remote access and keep a watchful eye on activity
Many third parties, including vendors, contractors, consultants and service providers have authorized access to networks, allowing them to change, alter or impact the operational service of the target organization. This access is privileged access—and needs to be protected to the same (or higher) standards as internal privileged user access. However, as organizations work to secure their networks, they often overlook remote access security controls, which can help to secure third-party access to privileged accounts. As a result, organizations are left with a very weak link in security, one that is all too often exploited by attackers to gain powerful access to the network.
The CyberArk Privileged Account Security solution delivers remote access controls including proactive protection of credentials, isolation of privileged sessions and real-time detection and alerting of suspicious behavior. This unique combination of remote access security solutions is designed to mitigate the risk of determined attackers exploiting remote access of third-party users to gain access to the target organization. Implementing these vendor security solutions enables the business to partner effectively with outside parties while maintaining the same security standards across the entire organization.
Key Benefits:
Gain visibility into the challenge of remote access control by scanning the network and identifying privileged accounts used by third-party vendors
Put control and management of remote access into the hands of IT by securely storing all passwords and SSH keys in a digital vault
Reduce the risk of remote vendor credentials falling into the wrong hands by systematically rotating them and implementing access controls for remote users
Block malware from a remote vendor's or external user's endpoint from infecting the network by implementing session isolation using a jump server
Protect credentials from compromise due to keylogging software and risky password management behavior by never disclosing passwords to the end user
Rapidly detect suspicious or malicious activity by monitoring all sessions through a single access control point
Accelerate incident response times with real-time alerting on anomalous activity determined by comparing all activity to an established baseline of typical behavior
Streamline privileged account security by managing the end-to-end solution for internal and external privileged users from a single platform with centralized policy creation and enforcement and reporting
Control and monitor privileged accounts to minimize the risk of insider threats
Security professionals must constantly be looking over their shoulder to see what threats and attacks are coming next. Not only do they need to be on the lookout for external threats, but also inside their organization for rogue employees, malicious contractors who have authorized access, former employees who still have privileged access to business critical systems, and even employees at risk of causing unintentional abuse. These risks from within the organization account for over 38% of breaches, and they are the most costly type of breaches.
To reduce the risk of insider threats and limit the damage that may be done, organizations should implement privileged account security solutions that offer insider threat protection. CyberArk's comprehensive solution for privileged account security enables organizations to proactively limit user privileges and control access to privileged accounts to reduce the risk of an insider attack, and it simultaneously offers real-time threat analytics to aid in insider threat detection. CyberArk's solution delivers robust threat protection capabilities by both minimizing the risk of attacks and enabling rapid detection of malicious activity.
Key Benefits:
Ensure that only authorized users are able to access powerful privileged accounts
Prevent users from being able to gain unapproved elevated privileges
Establish strict accountability over the use of privileged accounts by tracking who accessed what accounts and what actions were taken
Improve forensic analysis and by generating a detailed, tamper-proof audit trail of all privileged account activity
Rapidly detect and be alerted on anomalous activity that could signal an inside attack in-progress
Secure Unix environments with a complete and integrated solution
In Unix environments, administrative privileges tend to be an all or nothing trade off. With a need for privileged users to maintain critical systems but little control over how privileged access rights are used, organizations are often forced to grant default permanent, continuous and anonymous super-user privileges to users who may or may not be trusted.
To mitigate the inherent risks of privileged Unix accounts and reduce the likelihood of a data breach, organizations must proactively implement Unix security controls that protect accounts, secure all privileged credentials including passwords and SSH keys employed by users and applications, limit administrative privileges to only those necessary, and track all user activity during privileged sessions.
To help organizations secure Unix environments and address audit and compliance concerns, CyberArk offers an end-to-end privileged account security solution including:
Complete discovery of all Unix privileged accounts and SSH keys
Secure storage, automated rotation of and access controls to privileged passwords and SSH keys
Replacement of static passwords and locally stored SSH keys used in applications and scripts with dynamic, securely stored credentials
Least privilege policy enforcement with granular access controls to allow privileged super-user commands only when needed for business purposes
Real-time monitoring and recording of privileged sessions to strengthen security while preserving the native command line experience that Unix users prefer
Audit and reporting capabilities that provide individual accountability to the use of shared administrative accounts
Active Directory bridge capabilities for integrated authentication, provisioning, and reporting
Behavioral analytics of Unix privileged account activity with real-time detection of anomalous activity
This unique set of privileged Unix security capabilities are all delivered on a single, integrated platform designed to secure all privileged accounts including in Unix, Windows, and hybrid and public cloud environments.  By incorporating Unix systems and accounts into a broader privileged account security strategy, organizations can gain a number of benefits, including:
Key benefits
Locate all privileged Unix accounts and credentials to understand where vulnerabilities exist and set a plan to programmatically manage and secure the environment
Reduce the risk of unauthorized access with proactive protection of Unix credentials including passwords and SSH keys on a single platform
Prevent authorized users from mistakenly or maliciously executing damaging commands by limiting the scope of privileges to what is required
Streamline auditing processes with detailed audit logs and centralized reporting of Unix/Linux privileged activity
Improve efficiency of Unix account administration by connecting Unix accounts to AD for integrated authentication and provisioning
Reduce total cost of ownership with a unified, policy-driven solution for shared-account/software-account password management (SAPM) and super-user privilege management (SUPM) in UNIX/Linux environments, eliminating the need for two separate products
Reduce an attacker's window of opportunity on critical Unix systems with real-time detection and alerting of anomalous privileged account activity
Implement, expand and manage a complete privileged account security solution with a common infrastructure, the CyberArk Shared Technology Platform
Secure Windows environments with privileged account security
Windows machines are everywhere – making up the majority of servers and endpoints in many organizations. Powerful privileged accounts existing in every system and, when Windows administrators grant local administrator privileges to users for convenience and productivity, a larger attack surface results – providing attackers with an expansive opportunity to gain a foothold inside an organization.
Once attackers establish their presence inside a network, they are able to move laterally and escalate privileges by leveraging locally stored hashes to take advantage of inherent vulnerabilities in the Kerberos authentication protocol, such as pass-the-hash. Frequently, the attacker's main goal is to reach a Domain Controller, the central authority of trust within the Windows environment. Once a Domain Controller is compromised, the attacker has carte blanche access to the entire domain eluding visibility or awareness of the organization.
To secure Windows environments, organizations must implement layered security measures. To greatly reduce the attack surface and mitigate the risk of attackers exploiting local administrator privileges to gain a foothold, it is recommended that organizations remove local administrative rights and control applications on Windows endpoints with whitelisting/blacklisting solutions. To protect highly valuable assets including domain controllers, organizations should secure, manage and rotate privileged credentials. The use of unique credentials for each system combined with regular rotation of credentials helps organizations reduce the likelihood of attackers moving throughout the network, escalating privileges and gaining access to more sensitive assets. Finally, to gain visibility and reduce an attacker's window of opportunity, organizations should implement continuous monitoring and threat detection to identify and alert on malicious activity that could indicate an in-progress attack.
To help organizations secure Windows environments, CyberArk offers an end-to-end privileged account security solution that enables organizations to:
Discover all Windows privileged accounts, including local administrator, domain administrator and service accounts
Remove local administrator rights and enforce least privilege policies while enabling users to run trusted applications and carry out authorized tasks
Control and monitor applications on Windows endpoints to prevent malicious applications from entering the environment
Restrict unknown applications to maintain productivity, enabling users to safely run them on endpoints while not impacting security
Secure, manage, control and rotate privileged credentials including local administrator, service accounts, domain administrator, server administrator
Secure privileged sessions to protect target systems from potential malware on endpoints
Analyze, detect, alert and respond to malicious activity occurring on Windows systems including exploitation of the Kerberos protocol
This unique set of Windows security capabilities are delivered on a single, integrated platform designed to secure all privileged accounts including in Windows, Unix, and ICS environments whether on premises or in the cloud.  By incorporating Windows systems and accounts into a broader privileged account security strategy, organizations can gain a number of benefits, including:
Key benefits
Locate all privileged Windows accounts and credentials to understand where vulnerabilities exist and set a plan to programmatically manage and secure the environment
Mitigate the risk of malware entering the organization and remove everyday local administrator privileges from business users without impacting user productivity or driving up help desk costs
Provide visibility into malicious applications in the organization and block malware from executing on Windows machines
Shrink the attack surface by securely managing and regularly rotating shared administrator accounts and eliminating multiple individual privileged domain accounts
Reduce an attacker's window of opportunity on Windows systems with real-time detection and alerting of anomalous privileged account activity
Implement, expand and manage a complete privileged account security solution with a common infrastructure, the CyberArk Shared Technology Platform
Securely store confidential files in an access controlled environment
Internal users, customers, partners and business systems share information every day throughout the course of doing business. While this information sharing facilitates collaboration and productivity, it can also present challenges when the data exchanged is highly sensitive or regulated. Without the proper file security controls, unauthorized parties can easily gain access to confidential documents containing financial data, health information, intellectual property or other types of sensitive information.
CyberArk enables organizations to secure sensitive information in an access controlled Digital Vault and facilitates the secure sharing of files between authorized users and systems. With CyberArk's file security solution, organizations can safely share sensitive data with authorized internal or external users, maintain control over who may access what, and gain a full audit trail of file access history. As a result, organizations can confidently facilitate collaboration and keep users productive without compromising the security of sensitive data or risking audit fines.
Key Benefits:
Multiple layers of security, including encryption of data in transit and at rest, protect files at all times
Granular access controls allow users to easily share content with internal or external parties without introducing the risk of unauthorized access
Tamper-proof audit logs provide a full history of who accessed what and can be provided to auditors to demonstrate compliance
The intuitive web interface, e-mail plug-in and mobile application provide users with anytime, anywhere access to sensitive files
Ease-of-integration with existing enterprise infrastructure and legacy systems reduces the operational costs of secure file sharing between automated applications
Enterprise-level scalability and reliability meets the needs of growing organizations including high availability and disaster recovery
Get in Touch